Frozen Elderberries For Sale
We have over 60,000 lb. of frozen, destemmed and sanitized S. nigra canadensis berries - 25 lb. in 4 gal. food grade buckets for sale through Classic Provisions. If you are interested in buying over 1000 lb.frozen berries, developing elderberry ingredients, or in further processing elderberries or elderflowers, please email Chris Patton, MEC President, info@midwest-elderberry.coop.
Our website provides content relevant to our cooperative's members and those interested in our mission. We do so within a context of general information about the cultivation and health benefits of North American Elderberry (Sambucus canadensis). Our cooperative is made up of growers participating in the growth and development of elderberry cultivation and sale of elderberry products in the upper Midwest.  
The Midwest Elderberry Cooperative is built upon the success of our individual growers. The role of the cooperative is one as an educator in horticultural practice and quality process, research coordinator, product developer, marketer and buyer of convenient resort. In other words our growers decide when to sell their crop to the cooperative, which must, by necessity, often pay a lower price than what a buyer might receive in direct sales to customer/consumer. 
As of July 15, 2016, the members and board of directors voted to change our organization's name to Midwest Elderberry Cooperative from Minnesota Elderberry Cooperative in order to better reflect the actual/potential geographical presence and operations. The next members meeting will take place in November 2016.  Work on the cooperatives original series of  feasibility studies and business plan was completed with the help of Value Added Grants from the Minnesota Department of Agriculture in June 2016. This business plan guided us in forming our cooperative membership-management structure and initial elderberry and elderflower commercial operations. 
M i s s i o n
Through profitable, environmentally and humanly sustainable - and often Certified Organic - elderflower and elderberry production, MEC will contribute to the economic welfare of its growers and ingredient customers - from local to global food and beverage producers. Ingredient nutritional and taste quality, consumer satisfaction and a naturally healthy environment take precedence over excessive return on invested capital, which must nonetheless be robustly positive for our operations to be sustainable and provide acceptable return to our investor partners. 
Amended and Restated Bylaws of the Minnesota / Midwest Elderberry Cooperative were presented at the annual meeting of members on June 4, 2016 and adopted by the Board of Directors. A new  Member Agreement for growers expecting commercial production within three years of membership was also adopted. These documents provide equal membership opportunities to farms located in Minnesota, Wisconsin and Iowa.  
The cooperative's directors actively seek grants -to establish and expand our cooperative's objectives including the recruiting, education and success of Midwest elderberry growers, which includes the acquisition and management of  shared agricultural cultivation and harvest equipment, processing and storage facilities through the collective access to capital and markets. The cooperative's commercial activities seek to benefit our growers, our potential commercial partners and the general public.
We reach out to groups of interested potential growers though a variety of formats from farm tours and educational presentations by a variety of professionals to hands-on workshops in the field and in processing. We also actively work to encourage and facilitate scientific research by Midwest universities and institutes on North American elderberry cultivation, processing and neutraceutical potential. In late fall 2015 through a series of meetings, the University of Minnesota has begun serious planning towards the establishment of an Agroforestry focused Extension Program for MN growers as well as identifying various research projects on elderberry in relation to its potential as a specialty crop as well as its potential uses in environmental land and water management. 
Everyone involved would love to see increased academic participation by an increasing number of universities, foundations and institutes in elder berry and flower research. We recognize the University of Missouri's early leadership on our native varieties of Sambucus canadensis beginning with their very successful horticultural/agroforestry and extension work as well as their research from a medical or health perspective, the latter exemplified by their mouse models and other studies. MEC board members participated in the First International Symposium on Elderberry held at the University of Missouri in Columbia during June of 2013.
MEC in one of several informally networked grower and product production organizations working jointly toward an eventual co-op of elderberry cooperatives. We expect to share our progress with those adhering to similar goals and principles in other states. More information is available on the Elderberry America page. 
The successful development of networked elderberry grower cooperatives is progressing towards increased production and marketing of quality, certified organic ingredient elderberry products such as juice, flowers and frozen berries in various raw material and retail products. With restaurants, kombucha brewers, cheese makers, wineries and craft breweries, we are exploring a variety of potential ingredient products that MEC can produce and sell for our members' aggregated harvests. Ideally, retail outlets will establish relationships with local elderberry farmers who will become the local faces of MEC to the public. Individual grower specialty product development is encouraged.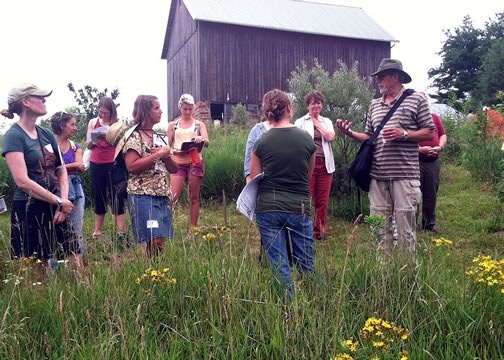 Christopher J. Patton [standing on right with a hat] is the Founder, President and Chairman of MEC's Board. He grows elderberry in partnership with Paul Otten (Berry Communications)  in MN and WI. Separately, Patton markets River Hills Harvest (RHH) brand premium pure elderberry juice products throughout the USA as River Hills Harvest Marketers, LLC. As of June 4, 2016, Dr. William E. Marsh became the Secretary-Treasurer of Midwest Elderberry Cooperative.
North American Sambucus nigra canadensis

The "elder" in elderberry comes from Old Saxon "aeldar", which means "fire".  The stunning, aromatic flower clusters and mildly sweet fruit of elderberry have been treasured for thousands of years. The dark purple berries are very high in vitamin C, and they are a great source of Vitamin A - up to ten times more than more popular berries. But elderberry is more noted for its high levels of  antioxidants like flavonoids — mainly anthocyanins, as well as quercetin and rutin, which function as a cellular level anti-inflammatory agents.
More nutrient dense than most other berries, elderberry juice and extracts have been used to treat the common cold, flu, diabetes and even some forms of cancer. Compare some of the US Department of Agriculture's data displayed on the Photos and Tables page. 
Until recently, about 95% of all elderberry ingredients were imported. European elderberry extracts, powders and concentrates come from that continent's native species, Sambucus nigra.  Because European commercial production typically freezes their elderberry harvest unwashed and on the stem, imported elderberry products are by necessity more highly processed to deal with the sanitation and unripe berry glycoside issues. They may be pasteurized, fermented, or heat processed up to three days in order to make concentrates or extracts. They may also contain added potassium sorbate as a preservative. 
These facts, among others, have encouraged the North American cultivation of various regional varieties in order to provide more nutrients at lower cost. Commercial elderberry cultivation is becoming a vital part of sustainable agriculture in North America, and the number of acres dedicated to elderberry cultivation is growing. While some focus on producing their own versions of traditional elderberry products as sold in European markets, many American growers and elderberry entrepreneurs are focusing on the innovative use of elderflowers and elderberries as ingredients in various foods and beverages, favoring a "less processed is better" approach to elderberry consumption.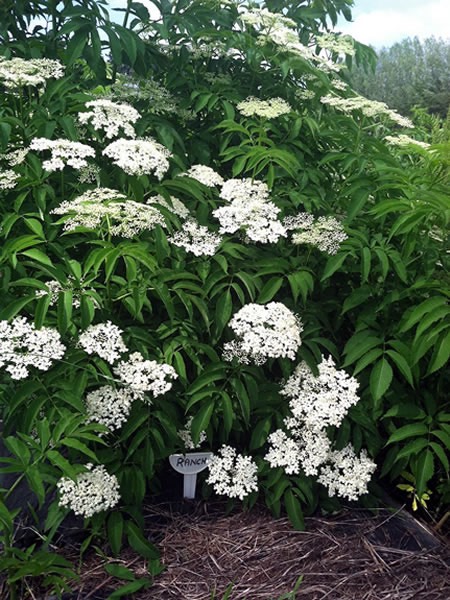 One example of the growing number of North American food processors exclusively using Sambucus canadensis berries, primarily sourced from the Midwest, is River Hills Harvest. Their juice products are not made from elderberry concentrate but from minimally processed, undiluted juice as an end product or core ingredient. River Hills Harvest cool processes elderberry juice for only about five minutes at 180°F, so the sweet neutral juice tastes great, less bitter, and retains more nutrient vitality. River Hills Harvest products are always sustainably grown and plans for a certified organic line of products in the future. Their products are sold through a growing network of local food cooperatives and grocery stores that focus on quality natural or organic, locally grown and processed foods and juices. 
Wild elderberry plants are often found along roadsides, forest edges and abandoned fields. Elderberry leaves, branches, stems, roots,unripe berries and seeds contain glycosides giving them a bitter taste that discourages pests. The body metabolizes these parts of the plant converting them into toxic cyanides; therefore, proper methods of harvest and processing are careful to remove everything but the berries before freezing. Final products using elderberries require some heat to neutralize any glycosides potentially remaining in the ingredient product.  Most sources agree that the limited consumption of ripe berries raw is probably safe for most people. 
Europeans make syrups and cordials from elderberry flowers as well as the berries. Some even coat stemless flower umbrels with batter and fry them served topped with cinnamon and powdered sugar as desert. In the USA, elderflower production and processing remains in its very early stages with a number of hobbyists and small craft producers making and selling elderflower syrups, cordials or teas, for example.