Buying Wholesale Elder Berry / Flower Ingredient Products
Midwest Elderberry Cooperative packs its inventory of frozen, destemmed and sanitized North American wild/native elderberries in 4 gallon food grade plastic pails holding 25 lb. We also seek out professional food and beverage processors/manufacturers to partner of specific elderberry and elderflower ingredient specification development. 
We currently sell bulk frozen, destemmed and sanitized elderberries in 4 gallon/25 lb. food grade pails, dried elderberries and elderflowers by the pound, raw frozen bulk elderberry juice, and are developing an elderberry puree and a concentrated elderflower syrup of about 65 BRIX. 
Bulk Frozen Elderberries

Our various elderberry cultivars are all natural selections from the wild and usually planted in fields or along agroforestry/permaculture land management principles. They are picked, destemmed, sanitized and frozen fresh the same day in 25 lb. four gallon food grade pails (rated 28 lb.). We have tens of thousands of pounds available and able to secure a couple hundred thousand pounds with proper planning. 

Fresh and raw frozen berries need to be fermented or heated so that the entire volume reaches 180 degrees F, or more, to neutralize the glycosides (proto-cyanides) that can cause pain or sickness in the digestive system. Different folks have different tolerances, but all are affected. 

Picrate Paper Reaction - like a pH test strip - is red-brown, but not extremely sensitive, but quick and easy to determine if any glycoside/proto-cyanide is present. The U of MO is testing each of the parts for cyanide using a more accurate and sensitive testing method vs. Picrate paper.
For orders of bulk frozen berries, please contact Chris Patton directly, first by email then by phone: info@midwest-elderberry.coop. or  612-418-4624.
Sample of MEC's Dried Native Elderberries - 12% moisture.
Dried Native Elderberries
Bulk (300+ lb.) MEC Direct Prices to Distributors/Processors
$17.00/lb. certified organic
$15/lb. sustainably grown


Wholesale MEC Direct Prices
$18.50/lb. certified organic
$16/lb. sustainably grown


MEC Prices - Consumer Buyer Direct / Online
$21.00/lb. certified organic, $8/4 oz.
$18/lb. sustainably grown, $7/4 oz.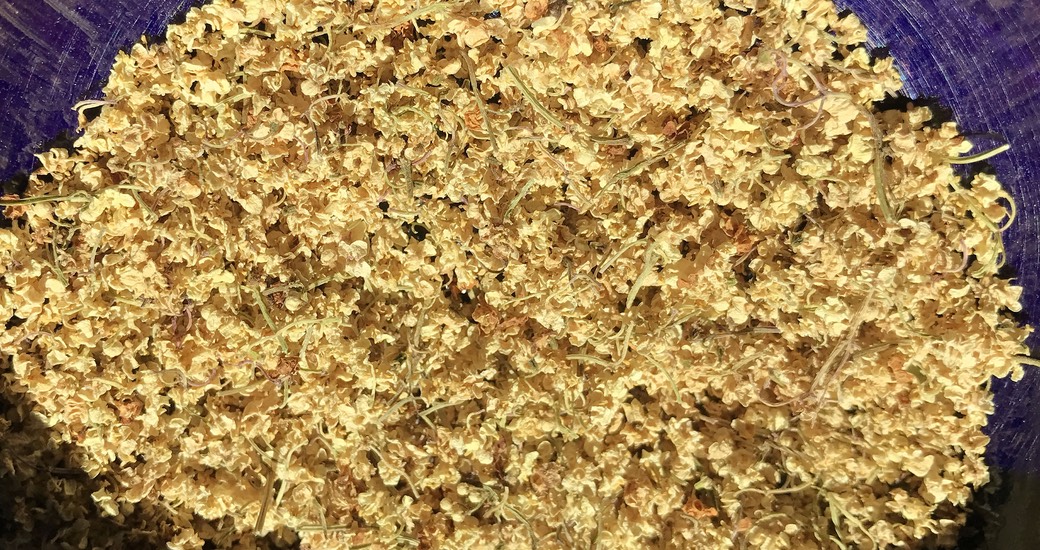 Dried Native Elderflower & Elderflower Ingredients
Dried native elderflower is available while supplies last.
Fresh or frozen native elderflowers must be ordered in advance of July. Fresh flowers are usually priced at $15-20/lb. If you want to help with the harvest and transport, the price is discounted accordingly. The logistics are challenging, and the window of opportunity is limited. See comments below the dried elderflower picture above.
Bulk (5+ lb.) MEC Direct Prices to Manufacturers / Retailers
$30/lb. certified organic  (est. retail to consumer of $12.50/ 4 oz.)
$28/lb. sustainably grown


MEC Prices - Buyer Direct / Online
$34/lb. org. / $31/lb. sustainably grown: 1-5 pounds
$10.00 for 4 oz. org. /  $9.00 for 4 oz. sustainably grown
[To place an order, please see top of the right column on this page.]