Over 20,000 lb. of older harvest berries in stock! 
These sustainably grown berries to sell at $4-5.00/lb. plus freight.
No Certified Organic Elderberries for sale at this time.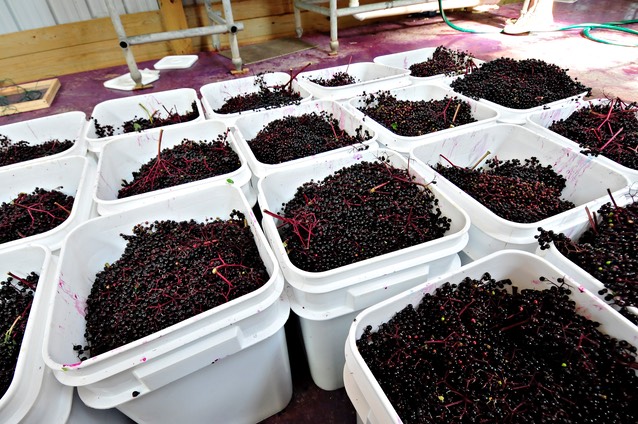 Picked ripe elderberries before destemming
To reserve commercial quantities of frozen bulk Certified Organic from next year's 2019 harvest, email Chris Patton, info@midwwest-elderberry.coop. Prices for certified organic elderberries begin at $5.50/lb. plus freight for orders up to 200 lb., and drop to $4.50/lb. for orders of 1000 lb. or more. Small producer pricing is negotiated between these two breakpoints. 
A non-refundable fifty cents/lb. deposit towards the fall purchase & delivery is required for advance purchase orders. Deposits will be refunded only if Nature or other causes beyond MEC's control prevent fulfillment of the purchase order.
Orders up to 200 lb. of bulk frozen berries: priced $5/lb. for current inventory of sustainably grown frozen elderberries, or a minimum order of 25 lb./4 gal., which is one $125/pail plus shipping, which has averaged about $35/pail to destinations in the Midwest. 
To order, please email Verlyn Sneller directly: ver@westbranchelderberries.com. You will be quoted with freight and, if acceptable, billed in advance of shipping.

Disclosure on Frozen Shipping: 
During warmer months, it is harder for small quantities of bulk frozen berries to remain partially frozen due to the high temps leading to more thawing in transit, so be prepared to refrigerate and use them promptly if almost completely thawed. I have refrozen partially thawed with no affect to taste.
Larger commercial shipments are arranged as specified in each case.


For orders over 200 lb. of bulk frozen berries from the current inventory the price is $4.50-4.00/lb. for sustainably grown frozen elderberries plus freight. 
To order, contact Chris Patton to work out pricing and delivery, first by email then phone: info@midwest-elderberry.coop or 612-418-4624. 

Ripe, destemmed and cleaned native elderberry cultivars may be a little more red than European S. nigra berries, which may be due to the 3 additional (red) anthocyanins present in the native berries.
Our native elderberry cultivars  (Sambucus nigra canadensis) are  selected from the wild (including some named cultivars) and usually planted in fields following  agroforestry / permaculture land management principles. They are picked, destemmed, sanitized and frozen fresh the same day in 25 lb. four gallon food grade pails (rated 28 lb.). 
[Click here to read a journal article comparing European Sambucus nigra and native North American Sambucus nigra canadensis.]


Are Raw Native Elderberries Safe? 
Latest research by the University of Missouri discovered that ripe native elderberries do not have any meaningful level of glycosides or proto-cyanides that can make one sick. This is not true for European Sambucus nigra elderberries, which is why those imported ingredients are usually more processed. That is part of the reason why native elderberries taste better.
While the latest research at the university of Missouri (soon to be published) indicates that fresh/frozen, ripe elderberries do not have significant levels of glycosides, some few people seem to be strongly affected by consuming raw elderberries or elderberry juice, where it upsets their digestive system. Why they have a lower tolerance for elderberry is not clearly understood. Fresh and raw frozen berries that are fermented or heated so that the entire volume reaches 180° F, or more have not been associated with any health related incidents to our knowledge.