Native Elder Berries & Flowers
Yes, we have dried native elderberries!

Old bulk frozen berry inventory is on sale!
We have a limited inventory of dried native elderflowers due to weather conditions at some of our larger growers.

Since we started drying and selling native elderberries online in January of this year, we have made acquaintance with quite a few customers who live in the states likely to be strongly affected by Hurricane Florence. Our thoughts and prayers are directed towards them and their neighbors at this time. The Growers of Midwest Elderberry (9/13/18)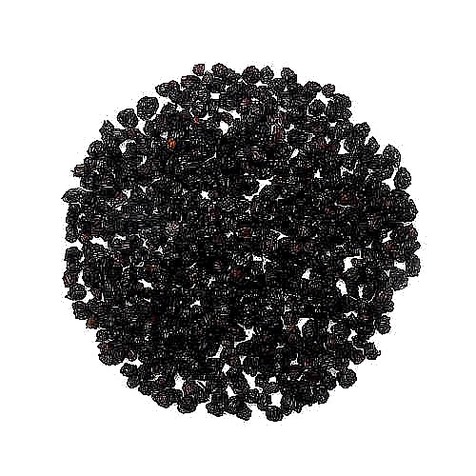 Our native elderberry cultivars  (Sambucus nigra canadensis) are  selected from the wild (including some named cultivars) and usually planted in fields following  agroforestry / permaculture land management principles. They are picked, destemmed, sanitized and frozen fresh the same day in 25 lb. four gallon food grade pails (rated 28 lb.). We have tens of thousands of pounds available and able to secure additional sustainably grown berries with planning.
[Click here to read a journal article comparing European Sambucus nigra and native North American Sambucus nigra canadensis.]

For dried berry orders over 10 lb., dried flower orders of 10 lb. or more, please contact Verlyn Sneller directly: ver@westbranchelderberries.com. You will be quoted with freight and billed in advance of shipping. For contracted pre-orders of native elderflowers and elderberries to the wholesale ingredient (over 1000 lb.) market - Contact: Chris Patton first by email then by phone: info@midwest-elderberry.coop or  612-418-4624.


Minneapolis-St. Paul Customers
MEC sells dried elderberries in ½ lb. packets for $10, dried elderflowers (when available) in 3 oz. packets for $7.50 at Seasoned Specialty Food Market, 1136 Grand Ave, Saint Paul, Minnesota 55105, 651-348-6291. We also see River Hills Harvest ElderBerry Juice, Jam andSyrup there at competitive prices. You will enjoy visiting this new retail concept store for locally made foods.


Bulk Dried Elderberries - 1, 2, 5 or 10 lb.
(quantities priced with continental USA shipping & handling)
Flat rate online orders may only be made for domestic USA delivery becasue they are based on postage rates for that area. Orders for Hawaii and Alaska or outside the 48 states must be emailed and billed separately. Total price will be quoted in advance and invoiced upon your approval before shipping. Please email Verlyn Sneller at ver@westbranchelderberries.com. 
Orders are filled in the order they are received online.  For small processors making liquid elderberry products (syrups, etc) we suggest that you try raw elderberry juice, which offers a much less processed way to make elderberry syrup. See the recipe below. 
How to Make Elderberry Syrup with dried elderberries
Martha Stewart:  Click here to read how Martha Stewart does it.


Sacred Blossom Farm Elderberry Syrup Recipe made with Frozen Raw Native Elderberry Juice
If you want something less processed, then you can use our sustainably grown bulk, strained raw elderberry juice that separates from thawing elderberries before drying them.  pH 4.3 BRIX 11

5 lb. dried elderberries (5 x $18>$90 = 2 gal. of raw juice (2x$45>$90)
1 Gallon Raw Elderberry Juice, 4 cups honey, 2 cups extra strong echinacea tea (optional).
Bring 2 1/2 cups of water to boil and add 1 cup of echinacea herbs.  Cover and cook on low for 8 to 24 hours.  Strain. (Optional: Use distilled water.)
Boil honey hard for 2 minutes, then add raw elderberry juice and bring it to 180°F.  Remove from heat. Add echinacea tea and honey.  Stir well. 
To preserve reheat to nearly a boil (165-175°F), then seal in jars. Set in a cold area if possible.


Bulk Frozen Raw Elderberry Juice -
1 or 2.5 gallon jugs (quantities priced with shipping & handling)
The jugs are not filled completely to allow room for the expansion that comes with freezing, thus a 2.5 gal. jug contains 2 gallons of frozen raw juice for $90 plus freight and weighs 18 lb. Each gallon weights 8.55 lb. Shipping one gallon Priority Mail (2-3 days) has been dependable. For orders above that, please email Verlyn Sneller, ver@westbranchelderberries.com. He will quote you in advance. 
Raw elderberry juice is a by-product of our drying process. We recommend it for making wine, vinegars, kombucha, beer, syrups and other liquid products.  Compared to dried berries, juice is easier to use, more economical and creates an equal or superior end product. (pH 4.3 BRIX 11)kombucha
Juice ships frozen and generally arrives thawed or thawing.  Be ready to process juice as soon as it arrives.  Juice should be fermented or heated to above 180°F for at least a moment. See Sacred Blossom Farm Syrup Recipe below. Good for wine, kombucha, jellies, vinegars & brewing, too.
Are Raw Native Elderberries Safe? 
Latest research by the University of Missouri discovered that ripe native elderberries do not have any meaningful level of glycosides or proto-cyanides that can make one sick. This is not true for European Sambucus nigra elderberries, which is why those imported ingredients are usually more processed. That is part of the reason why native elderberries taste better.
While the latest research at the university of Missouri (soon to be published) indicates that fresh/frozen, ripe elderberries do not have significant levels of glycosides, some few people seem to be strongly affected by consuming raw elderberries or elderberry juice, where it upsets their digestive system. Why they have a lower tolerance for elderberry is not clearly understood. Fresh and raw frozen berries that are fermented or heated so that the entire volume reaches 180° F, or more have not been associated with any health related incidents to our knowledge. 

Bulk Dried Elderflowers - 1 or 5 lb.
(quantities priced with shipping & handling)
Currently sold out.

Dry Elderflower production takes place on MEC (Midwest Elderberry Coop) member or affiliated farms shortly after June-July harvest.  Our elderflowers are superior to any I have ever seen commercially available.  Expertly dried in small batches, they retain their natural, angelic white color and pollen content.
How to Make Elderflower Syrup
Chef Gonzalez's Recipe for Elderflower Syrup:  This recipe has been provided for members and hobbyists. Anyone interested in the commercial use of this recipe should contact Chef Donald Gonzalez. You can find other recipes online. People also use the dried elderflowers to make elderflower syrup.