Individual farmer-growers and farmer-marketers may grow elderberry and experiment with product development and marketing apart from the cooperative. These friends of the cooperative share their experience, time and resources through MEC's educational outreach. Some growers operate licensed wineries or meaderies. River Hills Harvest's brand products are based on cool processed elderberry juice, heated just long enough to neutralize the potential glycoside toxins present in unripe berries and cyme twigs, thus this form of elderberry seems to be the least processed available to the consumer in a shelf-stable bottle. MEC follows River Hills Harvest picking, destemming, washing/sanitizing & packing protocols. Both MEC members and/or the cooperative and may sell bulk elderberries to RHH. 
MEC's feasibility and business plan studies incorporated this experience for evaluation by the MEC Board and Grower Members in guiding the operations of the cooperative as it works to support its associated farmers and processor partners through training, quality control and cooperative harvest, production and storage activities.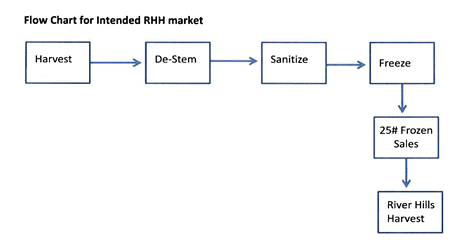 Consumers can help support the development of this new small fruit industry by buying elderberry products made and grown in the Midwest, such as the River Hills Harvest brand founded by Terry Durham. Consumer purchase of this brand's products directly supports the commercial production of elderberry and elderflower products in the Midwest. With increased consumer use and growing economic significance, elderberry will attract more grants for university research.
Where are River Hills Harvest elderberry juice products sold? If your favorite store does not carry River Hills Harvest's tasty elderberry juice products, then ask them to email Chris Patton at riverhillsharvest.marketers@gmail.com.  

Short news story on River Hills Harvest with some pictures.
Doug & Stacy YouTube Friday Field Trip visiting Terry Durham at River Hills Harvest. Other Terry Durham Elderberry YouTube videos linked here. 


Direct Ship to Retailer Program 
River Hills Harvest Marketers, LLC will ship direct to any retailer in the continental US that does not have access to one of our established distributors. Our goal is to eventually give retailers at least two choices, but that takes time and increased number of stores carrying our products so as to make sensor various distributors. For more information, download this this document for a description of that program.  

Independent Sales & Marketing Brokers for RHH 
River Hills Harvest Marketers, LLC works through the following independent sales and marketing companies to present the River Hills Harvest brand to retailers:
BREAKOUT Sales & Marketing  managed by Al Urpsis. Exclusive rights to California, Arizona, New Mexico, Utah, Nevada and Colorado. Please contact Al or your local Breakout Salesperson. Distribution primarily through KeHE Distributors. 
Sniderman & Associates, Inc. managed by Elaine Sniderman: elaineisneverhome@yahoo.com.  Exclusive rights to Texas, Oklahoma, Arkansas, Louisiana & Mississippi. Distribution primarily through Direct Ship to Retailer Program.
Independent Distributors for RHH Serving Retailers
River Hills Harvest Marketers, LLC works through the following independent distributors to deliver River Hills Harvest products to retailers:
Elegant Foods, LLC  "When taste matters"  - Elegant Foods is your premier source for specialty food products and ingredients in central and southern Wisconsin into northern Illinois. They offer many unique food items and local Wisconsin products for retail outlets, executive chefs and coffee shops. Address: 537 Atlas Ave., Madison, WI 53714. Phone: 608-249-7711 Fax: 608-249-2648
KeHE Distributors, LLC, RHH products may be ordered from the Chino, CA and Bloomington, IN DCs. Go to its page.
Market Distributing serves a number of retail food stores and chains in Minnesota. Their offices are located at 25 West Cliff Rd Burnsville, MN 55337. Please email or call Mike Reineck, mike.reineck@marketdistributing.com, 952-905-2009.
Ron Mar Foods, Inc. is a specialty food service distributor serving caterers, restaurants, hotels, country clubs and retail outlets in the Twin Cities, MN since 1977. RMF will ship RHH product throughout the Midwest. Open from 7:30 am to 4 pm Monday through Friday.   Address: 11525 K-Tel Drive, Minnetonka, MN 55343. Phone: 952-935-1700 Fax: 952-935-7491.

Most locations with a Health Market.
 Hy-Vee locations are listed on its own page.


All locations - in health / vitamins
 Go to Fresh Thyme's website.
Coborn's, Cash Wise & Marketplace stores with Natural/Local sections  
Go to Coborn's website.
River Hills Harvest Independent Retailers 
(This list is becoming increasingly incomplete as distribution grows.)
ARIZONA
Cottonwood: Mount Hope Foods
Fountain Valley: Nature's Finest

Phoenix: Crave Healthy Habit Wellness

Tucson: Aqua Vita-1
ARKANSAS
Harrison: Nature's Wonders

Harrison: Prairie Market

Hot Springs: Good Earth Natural Foods

Jasper: Arkansas House/Boardwalk Cafe

Mountain Home: Nature's Way Nutrition Center

Searcy: Good Measure Market

Sherwood: Anne's Health Foods


CALIFORNIA
Bakersfield: Lassens Natural Foods & Vitamins 
Chino Hills: Chino Hills Health
Chula Vista: Henry's/Sprouts
Costa Mesa: Irvine Ranch Market
Fresno: Lassens Natural Foods & Vitamins 
Laverne: Nature Way Health Food Center
Los Angeles: Health Food City
Los Angeles locations: Lassens Natural Foods & Vitamins 
Los Angeles: Rainbow Acres
Malibu: Vitamin Barn
No Hollywood: VP Discount
Oxnard: Lassens Natural Foods & Vitamins
Pasadena:  Health Food City #1
San Francisco: Village Market, One Ferry Bldg. #29
San Juan Capistrano: Marbella Ranch Market
Santa Barbara: Lassens Natural Foods & Vitamins 
Santa Maria: Lassens Natural Foods & Vitamins 
Simi Valley: Lassens Natural Foods & Vitamins 
Thousand Oaks: Lassens Natural Foods & Vitamins 
Ventura: Lassens Natural Foods & Vitamins 


HAWAII

ILLINOIS

Godfrey: Cleta's Nutrition

Highland Park: 

Highland Health Foods, Inc.
Moline: Heritage Natural Foods

Niles: A Way of Life 

Palos Hills: Health Food Flannagan's 

(Many Hy-Vee Health Markets)
INDIANA

Greenwood: Country Nutrition
Indianapolis: Good Earth Natural Food
Kokomo: Sunspot Natural Market
Newburgh: Paradise Organics
West Lafayette: Sunspot Natural Market


IOWA 
Burlington: Nature's Corner, 423 Jefferson St
Coralville: New Pioneer Food Co-op & Bakery, 1101 2nd Street
Davenport: Greatest Grains
Decorah: Oneota Community Food Cooperative, 212 Water St
Dubuque: Whitman's Nutrition Center 
Fairfield: Everybody's Whole Foods, 501 N. Second St
Iowa City: New Pioneer Food Co-op, 22 S. Van Buren
(Many Hy-Vee Health Markets)
KANSAS
Lawrence: Pendleton's Country Market
KENTUCKY
Berea: Happy Meadow Nutrition
Murray: Health Journey Health Foods
MICHIGAN
Allen Park: Better Health & Nutrition
Frankfort: Creation Farm, Inc.
MINNESOTA
Almost all Lunds & Byerlys stores in central Minnesota
Coborn's stores with a Natural section
Albert Lea: Wintergreen Nutrition
Buffalo: Local Roots Food Co-op
Burnsville: Valley Natural Foods
Cambridge: City Center Market
Chanhassen: Lakewinds Natural Foods
Cokato: Dan & Becky's Market
Grand Marais: Cook County Whole Foods Co-op
Hastings: Cash Wise
Hutchinson: The Farm of MN
Hutchinson: Tania's Wellness Corner
Litchfield: Natural Food Co-op
Mankato: Worthy of Wellness
Marshall: Columbia Imports
Minneapolis NE: Eastside Food Cooperative
Minneapolis East: Seward Co-op
Minneapolis: Longfellow Market
Minneapolis: Wedge Community Co-op
Minneapolis: Linden Hills Co-op
Minnetonka: Lakewinds Natural Foods
Moorhead: Lee Thomas Farm
Moorhead: Sydney's Health Market
Northfield: Just Food Co-op
Owatonna: Cash Wise
Red Wing: Simple Abundance
Richfield: Lakewinds Natural Foods
Rochester: People's Food Co-op
St. Cloud: Lunds & Byerlys 
St. Cloud-East: Cash Wise 
St. Paul: Golden Fig 
St. Paul: Hampden Park Co-op
St. Paul: Mastel's Health Foods
St. Paul: Mississippi Market, 1500 W. 7th Street
St. Paul: Mississippi Market, 622 Selby Avenue
St. Paul: Mississippi Market: 1500 W. 7th Street
St. Paul: Seasoned Specialty Foods
St. Peter: St. Peter Food Coop
Shoreview: Fresh & Natural
Stillwater: River Market Community Co-op
Waconia: Mackenthun's Fine Foods
Waite Park: Cash Wise

Willmar: Fabulous Finds

(Many Hy-Vee Health Markets)
MISSOURI
Ashland: Moser's

Ava: Jean's Healthway Natural Foods

Barnett: Morgan County Feed

Bourbon: CDR Naturals

Cape Girardeau: Natural Health

Chesterfield: Rick Jordan Choclatier

Columbia: 

Buck's Ice Cream

Clovers-Broadway & Nifong

Main Squeeze

Wine Celler & Bistro

World Harvest International Foods

Hartsburg: The Grand

Jefferson City: 

Jeff City Health Foods

Kansas City: Nature's Own Health Food

Lebanon: Nature's Pantry

Lee's Summit: The Gardens at Unity Village

Liberty: Mother Nature's Health Market


Rolla: Nature Girls

Sedalia: Healthy Habits

Springfield: Mama Jeans, Campbell, Republic & Sunshine Streets

St. Louis:

Botanical Garden Shop

Local Harvest

Maude's Market

Progressive Emporium

Root Cellar - Walnut

Sappington Farmers' Market

Versailles: Nature's Friend

Versailles: Weaver's Country

 Market

(Many Hy-Vee Health Markets)
MISSISSIPPI

Laurel: Bee Happy Natural Foods

McComb: McComb Market

Tupelo: Healthy Habits


NEBRASKA

(Many Hy-Vee Health Markets)


NEVADA
Las Vega: Sprouts Rainbow Grocery
NEW MEXICO

Albuquerque: Kellers Farm Store

Albuquerque: Moses Country Health Food
Truth or Consequences: Turtleback Oasis Market Place


NEW YORK

Brooklyn: Court Street Grocers, 485 Court Street
Roundtop: Hosanna Health


NORTH CAROLINA
Tryon: Nature's Storehouse


NORTH DAKOTA 

Bismarck: Cash Wise

Minot: Cash Wise


OHIO
Austintown: Berry's Natural Food Market

Dayton: Dorothy Lane Market

Madeira: Cincinnati Natural Foods

Millersburg: Troyer A Country Market 

Vermillion: Vermillion Farm Market




OKLAHOMA
Tulsa: Akins/Chamberlins

Tulsa: ERT Store 101 (East)


PENSYLVANIA
SOUTH DAKOTA
Many Hy-Vee stores with a Health Market

Coborn's stores with a Natural section


TENNESSEE
Camden: Better Living Natural Foods

Springfield: Our Serenity Shop


TEXAS

Cleburne: Family Nutrition Center
Colleyville: Sunflower Shoppe Vitamins & Natural Foods
Dallas: Ann's Health Foods
Dallas: Community Market
Duncanville: Cox Farms Market
Garland: Great Earth Vitamins
Richardson: Natural Health Shop
Sherman: Green Market
Spring: Harvest Natural Market


UTAH

American Fork: Good Earth
Cedar City: Sunshine Nutrition
Orem: Good Earth
Riverdale: Good Earth
Salt Lake City: Shirlyn's Natural Foods
Sandy: Good Earth
Sandy: Shirlyn's Natural Foods
Spanish Fork: Good Earth
St. George: Dixie Nutrition
VIRGINIA
Virginia Beach: Organic Food Depot
WISCONSIN
Brookfield, Sendik's Fine Foods
Green Bay: B-Alive
Eau Claire: Just Local Food Co-op
Elkhorn: Plaza Pharmacy
Hudson: Fresh & Natural Foods
LaCrosse: People's Food Co-op
Madison: Community Pharmacy
Madison: Metcalfe's Hilldale
Madison: Metcalfe's West Towne
Madison: Willy Street Co-op
Mequon: Outpost Natural Foods
Middleton: Willy Street Co-op
Milwaukee: Outpost Natural Foods, 100 E. Capitol Drive
Milwaukee: Outpost Natural Foods, 2826 Kinnickinnic Ave.
Mukwanago: Health Nut
Pewaukee, Good Harvest Foods
Platteville: Driftless Market
Plum City: Art 401 Gallery
Rice Lake: Marketplace Foods
Spooner: The Vitamin Source
Viroqua: Viroqua Food Co-op
Wauwatosa: Metcalfe's Wauwatosa
Wauwatosa: Outpost Natural Foods
Wisconsin Rapids: Family Natural Foods
(Hy-Vee Health Markets)