We are sold out of dried elder berry & flowers as well as bulk frozen berries.
We expect no supply of berries until after the fall 2019 harvest. We plan to begin taking pre-orders of bulk frozen native elderberries in late July-August 2019 and pre-orders for dried native elderberries no earlier than September 2019. 

Making elderberry syrup or gummies? 
Try our Bulk Frozen Raw Juice!  See recipe on the page.

MEC supplies ingredients to the River Hills Harvest brand of elderberry products sold in a grow number of retail locations. Click here for more information.  Minimally processed River Hills Harvest brand sustainable elderberry foods & beverages are always made from native elderberry, Sambucus nigra canadensis, grown in the USA by American farmers and owned by American farmers. Not from concentrate, extracts, powders or imported elderberries in any form. We especially recommend their pure ElderBerry Juice as a good, nutrient dense alternative.
If your local natural foods store does not stock these products, have them contact me about our Direct Ship program that we use to reach out across the country where our regional distributors don't supply. Chris Patton, riverhillsharvest.marketers@gmail.com.


We only grow native elderberries and only sell what we and our network of American farmers grow!
The current year elder flower and berry harvests were below normal in 2018, and remaining inventory is very limited. Our current inventory was grown in transition towards organic certification. We do not have any certified organic elder berries or flowers to sell in any form at this time until July 2019 flower harvest and September 2019 berry harvest.
No Certified Organic Elderberries for sale at this time
North American Elderberries taste and smell better than European imports. They are also naturally more reddish.

[Click here to read a journal article comparing European Sambucus nigra and native North American Sambucus nigra canadensis.]
Click on the Buying tab for the drop down menu -
Each Ingredient product has its own web page. 
Please read the relevant page before emailing or calling us!
Info about all bulk frozen destemmed & cleaned berry orders are found on that page, for example.
Small Order Online Direct page for those seeking modest quantities of the following sustainably grown in the Midwest native elderberry (Sambucus nigra canadensis) ingredients: dried elderberries, dried elderflowers and bulk raw frozen elderberry juice.


Customer Melissa's Comparison of Native North American Elderberries with the Imported Dried European Elderberries.
There is also some good info on how to make syrup, gummies, etc. 
I recently purchased dried American Elderberries from Midwest Elderberry Cooperative, and I wasn't sure at the time if I would like them compared to the dried European berries I had purchased from ... in the past. Let me just say it was night and day. The European berries are dark in color and smell like a dirty sock when they are being cooked. They make my house wreak. I also can't stand the flavor of the syrup. I have to hold my nose and swallow it fast and chase it with a drink of something to cover the taste as it's going down LOL. Well the American Elderberries have a reddish color. They smelled like muscadines or grapes cooking. It filled my house with a wonderful smell. The taste is awesome as well. I could literally drink this syrup. 
I made syrup using this recipe https://franklininstituteofwellness.com/proper-elderberry-…/ and gummies (see my instructions below). I will post a photo of them in the comments. I got my 100% silicone gummy bear molds (passed the pinch test) from Amazon.com. You can get your berries and molds wherever you want. I am not promoting these websites, and I don't get any money from them. Just thought I would share for anyone interested. 
Of Note: For the recipe I started with 1 quart of water and 1/2 cup of fresh squeezed lemon juice and ended up with exactly 2 cups of syrup after it was cooked for 45 minutes (boil then simmered) and strained. Different temperatures and altitudes can change the amount of liquid needed. For exact dosing you should end up with 2 cups. After straining off the berries and the addition of the honey I ended up with roughly 3 1/2 cups of delicious elderberry syrup. I used local raw honey since my daughter has allergies. I figured why not kill two birds with one stone. I canned my syrup by using a water bath and processing for 25 minutes. This way I don't have to worry about guessing if my syrup is still good or if it is moldy in the refrigerator. 
To make the gummies I used 1 cup of the prepared elderberry syrup and added 1 oz. of gelatin. Which is (4) of the .25 oz. packets. Heated just enough to melt the gelatin since I used raw honey in the syrup I didn't want to boil or overheat the honey and lose its enzymes. Then I squirted it by the dropper into the molds. I was able to make around 60 gummies from 1 cup of syrup. I refrigerated my molds for 2 hours. They popped out perfectly. These gummy molds will hold exactly 1 teaspoon of the mixture. So 1 gummy is a child's serving and 3 gummies are an adult serving. My daughter who hated the elderberry syrup I made with European berries wanted to eat all the American Elderberry gummies when she tried them LOL. I LOVE having this recipe from The Franklin Institute so now I truly know how much Elderberry my family is actually getting in a dose.


Are Raw Native Elderberries Safe? 
A multi-year project ending in 2018 by University of Missouri researchers discovered that ripe native (Sambucus canadensis) black elderberries and their seeds do not have any meaningful level of glycosides or proto-cyanides that can make one sick. [Note: Ripe native (S. canadensis) berries often appear more reddish in color than the European (nigra) berries, which is probably due to the additional anthocyanins found in the North American condenses cultivars. Native berries are also quite a bit smaller.]
This is not true for European Sambucus nigra elderberries, which do have glycosides. That is why those imported ingredients are more processed and may also be part of the reason why native elderberries taste better than the European ones.
While recent research at the university of Missouri (looking to be published) indicates that fresh/frozen, ripe elderberries do not have significant levels of glycosides, some few people seem to be strongly affected by consuming raw elderberries or elderberry juice, where it upsets their digestive system. Why they have a lower tolerance for elderberry is not clearly understood. Fresh and raw frozen berries that are fermented or heated so that the entire volume reaches 180° F, or more have not been associated with any health related incidents to our knowledge. 
Technical Note: Cultivar "Marge" was not a part of the above study and is likely to have more glycosides present since it is classified as an American adapted European Sambucus nigra. (4/9/2019 email from Andrew Thomas lead researcher UMO)


Buying Wholesale Elder Berry / Flower Ingredient Products
We also seek out professional food and beverage processors/manufacturers to partner of specific elderberry and elderflower ingredient specification development. If interested, please contact Chris Patton directly.
Be sure to check out our page covering recent research on elder berries and flowers as nutritionally dense ingredients in foods and beverages with demonstrated antiviral, antibacterial and many other health benefits.
Midwest Elderberry Cooperative currently packs and sells bulk frozen, destemmed and sanitized elderberries in 4 gallon/25 lb. food grade pails, dried elderberries and elderflowers by the pound, raw frozen bulk elderberry juice by the gallon, and are developing an elderberry puree and bulk freeze-dried native elderberries. 


Black Currants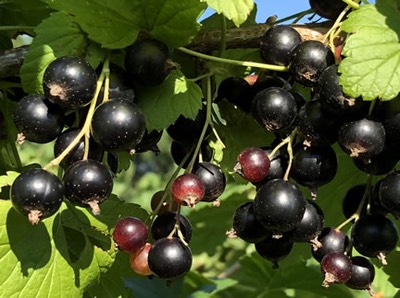 Through a member in western WI, we have access to over 20,000 lb. of frozen cleaned black currants and 25,000 lb. of frozen black currants on the stem - mostly in 40 lb. boxes. 
Price for quantities under 1,000 lb. is $3.00/lb. plus shipping for any black currant order. For orders of 1,000 lb. or more, is $2.50/lb. cleaned and $2.20/lb. on the stem plus shipping. To order, email Chris Patton, info@midwest-elderberry.coop.