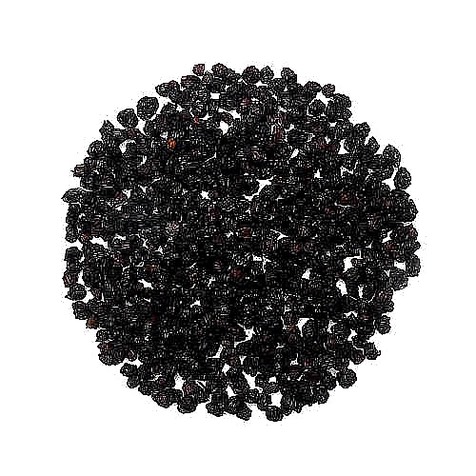 Sample of MEC's Dried Native Elderberries - 12% moisture.
MEC does NOT have dried sustainably grown native elderberries and elderflowers in stock to sell. We are currently processing sustainably grown, native frozen berries into dried ones, and orders will be filled first come first served basis. As of 10/15/18, we have put a hold on all sales of bulk frozen and dried berries until all existing orders have been filled.
At this time we do have any dried certified organic elderberries or elderflowers. We only dry our native certified organic elderberries when we have excess inventory or when the order is reserved in advance by  contract. To reserve certified organic elderberries in any form, please contact Chris Patton directly, first by email then phone: info@midwest-elderberry.coop or 612-418-4624.


Dried Native Elderberries - pricing only
Currently sold out of native Elderberries / Elderflowers.
[Delivery/shipping charges are not included in the prices below.]
MEC Consumer Buyer Direct Prices / Online
[To place an order, please click on the subhead.]
Order up to 10 lb. online with flat rate shipping in continental USA.
$21/lb. certified organic, $8/4 oz.
$18/lb. sustainably grown, $7/4 oz.


MEC Wholesale Direct Prices 
(Retail store, craft producers or orders of 20 lb. or more) 
$18.50/lb. certified organic
$16/lb. sustainably grown


MEC Bulk (300+ lb.) Direct Prices

$17/lb. certified organic
$15/lb. sustainably grown


For orders of bulk dried berries over 20 lb., please contact Verlyn Sneller directly by email: ver@westbranchelderberries.com. 
You will be quoted with freight and billed in advance of shipping.
All prices quoted are for bulk packed weights (5, 10, 20, 50 lb. bags) of dried berries. Special order dried elderberries may be packed in 8 oz. or 16 oz. pouches as pictured for an additional charge of $3.00/pouch of either size as pictured below. 
MEC Packed Wholesale Pouches + $3/each