No new orders for bulk frozen berry orders accepted until July 2020 pre-orders. Pre-orders require a deposit may include periodic shipments as reserved in advance.

We still have some frozen black currants. Please see the bottom of this page. Contact Chris Patton first by email: info@midwest-elderberry.coop. or then by phone, preferably between 9am-5pm Central Time 612-418-4624.
Prices for sustainably grown frozen elderberries (2019) harvest:
$5.00/lb. plus freight

 for orders up to 500 lb. and drop to 

$4.75/lb. plus freight for orders over 500 lb. up to 1000 lb. 
Pricing over 1000 lb. begins at $4.50/lb. 


On all orders, priority is given to MEC member growers, past customers, small orders and date deposit is received.
(Orders must be in 25 lb. increments due to our pack in 4 gal. food grade pails.) We will then send you a PayPal invoice that allows for a partial payment equal to the deposit. This non-refundable deposit towards the full purchase & delivery is required for all purchase orders. Deposits will be refunded only if Nature or other causes beyond MEC's control prevent fulfillment of the purchase order.
Frozen commercial shipments are arranged as specified in each case since some buyers accounts with preferred providers. MEC has accounts with two frozen LTL services that quoted a decent 2019 price for a 500 lb. order and would certainly deliver larger orders. Please let us know in your email if you need a freight quote, have a specific target delivery date, and provide the shipping address, so we can get that before paying a deposit. 

We still have access to frozen cleaned black currants and frozen black currants on the stem. [More information can be found at the bottom of this page.]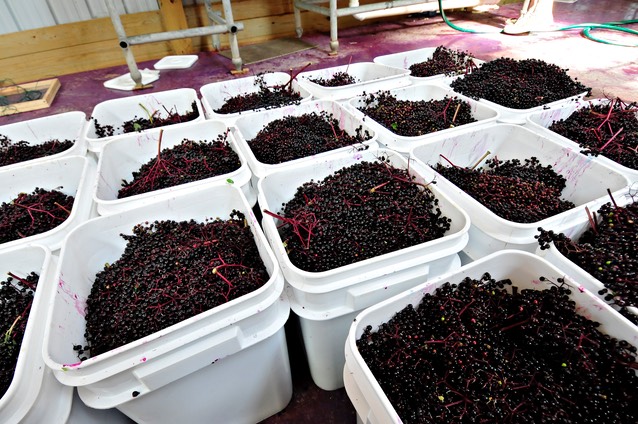 Picked ripe elderberries before destemming
Disclosure on Frozen Shipping: 
During warmer months, it is harder for small quantities of bulk frozen berries to remain partially frozen due to the high temps leading to more thawing in transit, so be prepared to refrigerate and use them promptly if almost completely thawed. I have refrozen partially thawed with no affect to taste.
To order, contact Chris Patton to work out pricing and delivery, first by email then phone: info@midwest-elderberry.coop or 612-418-4624. 

Ripe, destemmed and cleaned native elderberry cultivars may be a little more red than European S. nigra berries, which may be due to the 3 additional (red) anthocyanins present in the native berries.
Our native elderberry cultivars  (Sambucus nigra canadensis) are  selected from the wild (including some named cultivars) and usually planted in fields following  agroforestry / permaculture land management principles. They are picked, destemmed, sanitized and frozen fresh the same day in 25 lb. four gallon food grade pails (rated 28 lb.). 
[Click here to read a journal article comparing European Sambucus nigra and native North American Sambucus nigra canadensis.]


Are Raw Native Elderberries Safe? 

Elderberry Flower Production and Cyanide Concern
Andrew L. Thomas University of Missouri Division of Plant Sciences, Southwest Research Center Mt. Vernon, MO.  This article gives a photo and graph rundown of a multi-year study investigating the whether native North American Sambucus (nigra) canadensis contains proto-cyanide glycosides in quantities sufficient to warrant specific processing requirements beyond clean harvest. 
Summary of Findings:

Picrate paper method was successfully used to assess the total cyanogenic potential.
A control test with two apple varieties showed high levels of cyanide in the seeds.
No cyanide was detected in commercial (processed) elderberry juice
Levels of cyanide detected in tissues of fresh berries were very low; lowest in juice & seeds and highest in stems & green berries.
Levels of CNG's detected with LC-MS method were very low in all tissues and consistent with picrate results.
Detected levels pose no threat to American Elderberry consumers. Excluding stems, green berries and leaves in juice preparation is recommended.
[Click here to read the full article.]
This does not seem to be true for European Sambucus nigra elderberries, which have a history of production processes to neutralize th e potential issues related to glycosides. That is why those imported ingredients are more processed and may also be part of the reason why native elderberries taste better than the European ones.
While the latest research at the university of Missouri (soon to be published) indicates that fresh/frozen, ripe elderberries do not have significant levels of glycosides, some few people seem to be strongly affected by consuming raw elderberries or elderberry juice, where it upsets their digestive system. Why they have a lower tolerance for elderberry is not clearly understood. Fresh and raw frozen berries that are fermented or heated so that the entire volume reaches 180° F, or more have not been associated with any health related incidents to our knowledge. 
Black Currants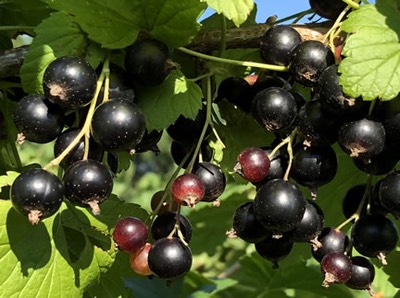 Through a member in western WI, we have access to over 10,000 lb. of frozen cleaned black currants and 15,000 lb. of frozen black currants on the stem - mostly in 40 lb. boxes. 
Price for quantities under 1,000 lb. is $3.30/lb. plus shipping for any black currant order. For orders of 1,000 lb. or more, is $2.80/lb. cleaned and $2.50/lb. on the stem plus shipping. To order, email Chris Patton, info@midwest-elderberry.coop.