No new orders for thermally dried native elderberries accepted. Please check back in October 2021.
MEC's sustainably grown, thermally dried native elderberries are sold out because we only sell what we grow. The native dried elderberries chew like little berry kernels about the size of peppercorns. They do not need to be cooked to be enjoyed. You may add them to cereals or salads and in baking, for example. 
Limited quantities of sustainably grown freeze dried berries are currently available. Please see that page in the menu.
We only sell berries from our grower network, and we only dry our native certified organic elderberries when we have excess inventory or when the order is reserved in advance by contract. To reserve certified organic elderberries in any form, please contact Chris Patton directly, first by email then phone: info@midwest-elderberry.coop or 612-418-4624.
Avoid contamination and keep your dried elderberries sealed and dry in a cool place out of direct sunlight, and they should be good for a year. 

Sample of MEC's Dried Native Elderberries - 12% moisture.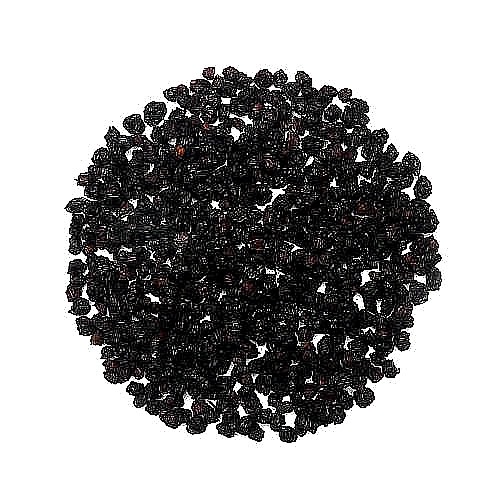 MEC Wholesale Direct Prices 
Orders of 50+ lb. Delivery/shipping charges are not included in the prices below.
$25/lb. certified organic

$22/lb. sustainably grown




For orders of bulk dried berries over 50 lb., please contact Chris Patton directly by email: info@midwest-elderberry.coop. 
You will be quoted with freight and billed in advance of shipping.

Naturally more reddish, North American black elderberries taste and smell better than the imports. Most (thermally) dried elderberries imported from Europe are wild collected. European research found that "...wild elderberry have the lowest quantities of these bioactive compounds…" 
[Point #14, Functional Ingredient page]
Thank you for following up on my inquiry.  MEC has a great product, allowing me to make some of the best elderberry syrup I've ever had. 
- K.L. in CT
Customer Melissa's Comparison of Native North American Elderberries with the Imported Dried European Elderberries: 
I recently purchased dried American Elderberries from Midwest Elderberry Cooperative, and I wasn't sure at the time if I would like them compared to the dried European berries I had purchased from ... in the past. Let me just say it was night and day. The European berries are dark in color and smell like a dirty sock when they are being cooked. They make my house wreak. I also can't stand the flavor of the syrup. I have to hold my nose and swallow it fast and chase it with a drink of something to cover the taste as it's going down LOL. Well the American Elderberries have a reddish color. They smelled like muscadines or grapes cooking. It filled my house with a wonderful smell. The taste is awesome as well. I could literally drink this syrup. 
Special order dried elderberries may be packed in 8 oz. or 16 oz. pouches as pictured for an additional charge of $3.00/pouch of either size as pictured below. 
No international orders except Canada. Flat rate orders apply to domestic USA delivery when able to use USPS flat rate boxes. For larger orders of dried elderberries, or for orders sent outside the 48 states please email Chris Patton, info@midwest-elderberry.coop. Total price will be quoted in advance and invoiced upon your approval before shipping.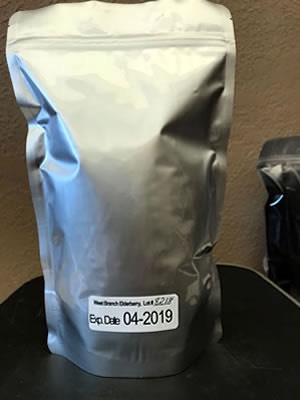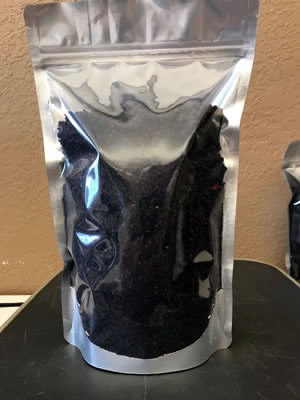 Packed, Unlabeled Wholesale Pouches
+ $3/each to the cost of the dried berries.